Windows 10 is mostly admired operating system among users because of its awesome features and improvements. But like other Windows operating system, this is not free from errors, many users are found reporting Exception Access Violation error in Windows 10. This is a very irritating error that occurs every time when the user tries to open any software or application.  So, here in this article know how to fix the error.
The Exception access violation error is related to a memory error and is generally caused due to the software issues whereas in some cases it is found that it might be caused by the faulty RAM module.
Methods to Fix Exception Access Violation Error on Windows 10
You May Also Like:
Fix 1 – Add Data Execution Prevention Exception
If any particular program is giving exception eaccessviolation in module windows 10 error, then by adding that program to Data Execution Prevention exceptions list will fix the error. To do so follow the steps given below:
First, choose Control Panel from the list of results.
Then go to System and select Security > System.
And click on Advanced system settings.
Next, in the Advanced tab find the Performance section and then click the Settings button.
Go to Data Execution Prevention tab.
If DEP is turned on for you, click on the Add button.
Then locate the .exe file of the program that you desire to run.
After adding the program to the DEP list, click Apply and OK to save the changes.
And try to run the program again.
Fix 2 – Disable User Account Control
Some users are found reporting that "Exception access violation" occurs when the user tries to install Java or when they try to run Java applets or applications. So to get rid of it temporarily disables User Account Control. And to do that follow the instructions:
First, open Control Panel.
Then go to User Accounts > User Accounts and select Change User Account Control settings.
And move the slider all the way down until it says Never Notify.
Now click OK to save changes.
And try to install Java or try running Java applets.
You can follow this solution for other software also, and if you found that Java is working without any problem on your PC, you can try disabling User Account Control to get rid of this issue. You can disable User Account Control while running the desired application and then turn it back on.
Fix 3 – Create options.ini file
As it stated above that exception access violation error affects all sorts of software and video games are also not the exceptions. The game affected by this error is Lord of The Rings: Battle for Middle Earth, So, here follow the given solution to fix  the error:
Press Windows Key + R and type %appdata% in the Run dialog box. Then after typing %appdata%, press Enter or click OK to open AppData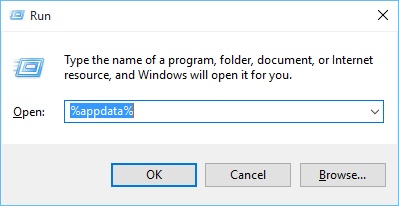 In AppData folder find and open My Battle for Middle Earth Files
But in case if the folder is empty, create a new ini file in it.
Create a new text document and add the following lines to it:
AudioLOD = Low
HasSeenLogoMovies = yes
IdealStaticGameLOD = VeryLow
Resolution = 800 600
StaticGameLOD = VeryLow
TimesInGame = 1
And click File > Save as.
In Save as type, section select All Files and then in File name section enter ini. Assure that the file is saved in AppData > My Battle for Middle Earth Files folder. Click Save.
After saving the file try running the game again.
Fix 4 – Assure that the file isn't set as read-only
Locate the shortcut to the problematic file, right click it and select Properties.
Navigate to General tab and find the Attributes
Verify that Read-only isn't checked.
If it is checked, uncheck
Then click Apply and OK to save the changes.
And try running the application again.
Fix 5 – Reconnect your headset
The error was been reported by Vindictus players and according to them, this error occurs with Logitech headset g35, but this is not limited to this it might be related to other manufacturers also. This issue can easily be fixed by simply unplugging your headset while the game is loading and after that plug it back once the game was loaded.
Fix 6 – Check for Hardware Issues
Very firstly, it is mentioned that the error might be related to hardware issues like RAM memory. So, if you are still unable to fix the error then check if your RAM memory is working properly or not.
Scan Your PC with Professional Recommended Solution:
You can make use of the one and only Windows Error Fixer, this is the best tool that helps you to fix various PC error. This is an efficient tool to maintain Windows system. With the help of this tool, you can fix various issues like freezing, crashing, optimizing PC speed. This is the best tool to fix all types of errors, DLL error, Windows error, Registry tool, Application issues and much more.  This is the unique tool that by scanning once detects and fixes various issues related to PC. It only fixes the errors but also keeps an eye on how PC hardware are running and detect the hardware problem so that the user can get them repaired. It is easy to use and only you need to simply download the tool.
How to Fix Exception Access Violation Error on Windows 10