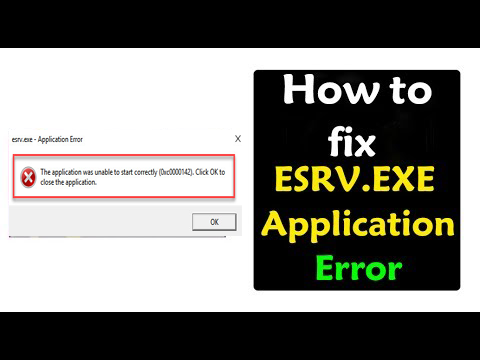 Microsoft is continuously pushing various updates to make perform better and enhance the Windows experience.
The updated helps to fix recent issues, add latest security patches, bring latest features and apps that optimize the way you are using Windows experience.
But many of the updates bring lots of issues that cause system malfunction and start showing errors.
One of the recent errors found in Windows 10 is esrv.exe application error (0xc0000142).
The esrv.exe application error is faced by the users after updating their Windows 10 OS with the latest Creators Update.
During the updating process, the firmware gets messed with system utilities and as a result, users start getting the esrv.exe application error (0xc0000142) issue. 
It is found that the error is related to Intel Driver incompatibility.
So, here follow some working solution to fix esrv.exe application error.
How to Fix Windows 10 esrv.exe Application Error (0xc0000142)
Solution 1: Update Intel Driver
As I said above Windows 10 esrv.exe application error (0xc0000142) is related to the Intel Driver Update Utility, so here you need to fix the error for the particular issue.
So here you need to try an update for the program to fix esrv.exe application error windows 10
Follow the process to do so:
Go to System Settings > press Win + I
And click on Devices (Bluetooth, printers, mouse).
After that from opened page, > scroll down > look for Device Manager
Next click on the entry > find the Intel Driver Update Utility
Now try updating the software
Hope updating the Intel Driver Update Utility will resolve esrv.exe application error (0xc0000142) on Windows 10. But if not then uninstall Intel Driver Update utility.
You may also read:
Solution 2:  Uninstall Intel Driver Update Utility:
If updating the Intel driver utility won't work for you then try uninstalling the Intel Driver Update Utility.
Follow the steps to do so:
First go to Control Panel > hit Win + R keys > then in RUN box type control panel> hit Enter.
Then in Control Panel > go to Category
Under Programs > click Uninstall.
In the currently installed Programs on Windows system > locate the Intel Driver Update Utility software.
Choose the entry > to select Uninstall.
And follow the on-screen instruction to complete the uninstall process.
Reboot the Windows 10 PC
Apart from that, you can also update your drivers automatically with the automatic free driver booster.
Solution 3: Remove Malicious Program
Check whether your system is having any malicious program as this also causes the error.
If you are unexpectedly getting Esrv.exe – Application Error on Windows, then open Task Manager and check how many Esrv.exe processes are running.
If you found plenty of programs are running then this is a clear sign your system is infected with malicious virus program concealed under Esrv.exe file name. So, in this case, finish Esrv.exe processes and scan your system with good antivirus program to fix the error.
Hope till know you are able to fix Esrv.exe application error but if not then it is advised to scan your system with Windows Repair Tool, this is best to fix Windows related issues and virus infected.
Also Read: Why You Need Antivirus for Windows 10 – 7 Reasons to Consider
Check your Windows PC/Laptop Health
Make use of the professional recommended Windows Repair tool, this is the best tool to fix Windows 10 update error and other issues related to it. This is the best tool to scan, detect and repair various Windows operating system issues such as corruption, damages of the Windows system files, malware/viruses, protect you from file loss, hardware issues and many more. Also quickly fix various issues like BSOD, DLL error, Registry issues, drivers issues, games relates issues, application error and many others. It also helps you to optimize your Windows PC performances and prevents others issues automatically with this software.
Conclusion:
Well, this all about esrv.exe application error on Windows 10
I tried my best to put together the working solutions to fix esrv.exe application error (0xc0000142).
Try the given solutions and check whether the error is resolved or not in Windows 10.
Apart from that, it is also recommended to scan your system for virus/malware infection with the good antivirus program and also keep your operating system and drivers updated to fix various the Windows 10 OS related issues and make the system perform better.
Additionally, if you find the article helpful or have any query, comment, questions or suggestions related, then please feel free to share it with us in the comment section below or you can also go to our Fix Windows Errors Ask Question Page.
Good Luck!!!
Summary
Article Name
3 Methods to Fix ESRV.EXE – Application Error (0xc0000142) Windows 10
Description
Are you the one getting error esrv.exe application error (0xc0000142) in Windows 10 operating system then here follow the complete working solution to fix it...
Author
Publisher Name
Publisher Logo
3 Methods to Fix ESRV.EXE – Application Error (0xc0000142) Windows 10