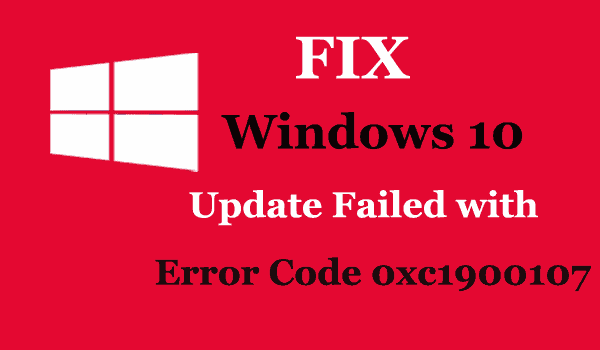 Updating Windows 10 probably causes various update errors to the users. In many of our earlier blogs, we have discussed various Windows 10 upgrade errors such as – 0xc1900200, 0x8024401c and many others.
And today in this article we are describing the another – error code 0xc1900107. The Windows upgrade error is faced by the users when they try to install the major update for Windows 10 (Anniversary update or Creators Update).
Many Windows 10 users get the error code 0xc1900107 in Anniversary update, and the same upgrade error 0xc1900107 is faced by the users while updating Windows 10 with the latest Creators update.
This is a very irritating error as the users face trouble in installing the updates on their Windows 10 operating system. During the update process, the error message appears containing error code 0xc1900107 and the installation fails.
Microsoft frequently releases updates to enhance and improve the Windows 10 OS. So it is mandatory for the users to install the major updates for Windows 10, to have the best experience and improved performance.
But updating Windows 10 it is not as smooth as it seems. Possible users are getting error code 0xc1900107 while updating Windows 10 OS.
Let define it best with the user's experience:
I have tried to update Windows 10 creators update using Windows 10 update assistance app. during the installation I got the error message code 0xc1900107. I have done disk cleanup and clean boot process also and there is no update was pending on my laptop.

 I am using windows 10 home single language edition.

I have tried so many times to install but all are failure.

Help me

                                                                                                  Original post from Microsoft Community.
The Windows 10 Update Error 0xc1900107 is caused due to the Windows update components malfunctioning or due to the corrupt update files in the folder where Windows stores downloaded materials for Windows updates.
Moreover, here in this article know how to fix error code 0xc1900107 in Windows 10.
How to Fix Windows 10 Error 0xc1900107
Fix 1: Utilize the Windows Update Troubleshooter
The first solution to fix error code 0xc1900107 is run the Windows Update Troubleshooter.
This is Microsoft's tool particularly designed to resolve more or less damaging Windows update related issues.
Here follow the ways to run the Update troubleshooter:
Download the Microsoft Windows Update Troubleshooter.
Install the tool and follow the on-screen instructions.
Now, try installing the update again.
Fix 2: Manually Reset Windows Update Components
It might happen you are getting the error 0xc1900107 due to faulty Windows Update components.  So, to fix the Windows 10 update error 0xc1900107, try manually resetting your Windows Update components.
Here, know how to do so:
On the Start Menu button, >  right-click to open the WinX Menu
Or else click Start > Type cmd > right click cmd > select Run As Administrator.
Now, click on Command Prompt (Admin) in the WinX Menu to launch an elevated Command Prompt.
And type the given commands into the elevated Command Prompt one by one
And hit Enter after typing each and wait for one command to successfully perform, before typing the next one:
net stop bits
net stop wuauserv
net stop appidsvc
net stop cryptsvc
ren %systemroot%\SoftwareDistribution SoftwareDistribution.bak
ren %systemroot%\system32\catroot2 catroot2.bak
net start bits
net start wuauserv
net start appidsvc
net start cryptsvc
Next, close the elevated Command Prompt.
And reboot your system.
When the system restart, try installing the anniversary update or creators update whatever is causing the error and check whether or not the update installs successfully.
As the computer boots up, try installing the anniversary update and see whether or not it installs successfully.
Fix 3: Delete $WINDOWS.~BT folder
However, if after manually resetting the Windows Update components you are still getting the Windows 10 Update error 0xc1900107. Then it is recommended to delete the $WINDOWS.~BT folder, many users had solved 0xc1900107 by deleting it.
In case you are unfamiliar with this folder, it stores some data from the previous system versions and in some cases, the data might cause a problem during the upgrading process.
Follow the steps to delete this folder:
First open File Explorer > and go to This PC > Local Disk (C:) (or any your system hard drive is)
Click View > check the box that says Hidden Files
Locate the folder named $WINDOWS. ~ BT
And rename it or delete it
After doing this, try to install the update again, hope this will solve the error but if not then follow another solution.
Fix 4: Run the WUReset script
The WUReset script is a custom-made script designed to fix various Windows update errors. This is very helpful as this executes entire standard solutions and workarounds to fix resolve various errors related to Windows Update.
Here follow the steps to create the script by yourself and fix the error:
First, open Notepad
Now paste the given text into Notepad:
@ECHO OFF
echo Simple Script to Reset / Clear Windows Update
echo.
PAUSE
echo.
attrib -h -r -s %windir%\system32\catroot2
attrib -h -r -s %windir%\system32\catroot2\*.*
net stop wuauserv
net stop CryptSvc
net stop BITS
ren %windir%\system32\catroot2 catroot2.old
ren %windir%\SoftwareDistribution sold.old
ren "%ALLUSERSPROFILE%\application data\Microsoft\Network\downloader" downloader.old
net Start BITS
net start CryptSvc
net start wuauserv
echo.
echo Task completed successfully…
echo.
PAUSE
And save the file as "WUReset.bat" (including quotes)
Next, to run the script > right click on it > go running as Administrator
There you have your own Update troubleshooter. This script will save a lot of time and work and possibly fix the Windows 10 update error 0xc1900107.
Now try the last solution, hope this troubleshoot the error 0xc1900107 in Windows 10.
Fix 5: Run the SFC scan
Lastly, if none of the above solutions troubleshoots the upgrade error 0xc1900107, then try to run the SFC scan. This is the Windows inbuilt tool, which scans and fixes various system issues as well as the update errors tool.
Follow the steps to run the SFC scan:
Type CMD > in Windows Search
Now right-click and Run as administrator.
And type sfc/scannow, in the command line.
The process takes a couple of minutes.
Now, as the process is finished, close the command prompt.
Scan your PC with the Professional Recommended Tool
You can make use of the professional recommended  Windows Repair Tool. This tool is designed with the advanced algorithm and is able to repair most computer errors, and also protect you from file loss, malware, hardware failure and optimize your PC for maximum performance. Quickly fix PC problems like BSOD, DLL error, Registry issues, drivers issues, application error and many others and prevents others issues automatically with this software
Now it's Your Turn:
We try our best to provide the possible workarounds that will help you to fix the Windows update error. We hope at least one of the given solutions will help you to deal with the error code 0xc1900107, and you can now update your Windows 10 operating system without any issues.
However, if in case you are having any query, comment, questions or suggestion, then please share it with us in the comment section below.
To know about other Windows Update errors, its fixes, and additional info, just visit our Windows Update hub.
Additionally, if you find the article helpful or have any query, comment, questions or suggestions related, then please feel free to share it with us in the comment section below or you can also go to our Fix Windows Errors Ask Question Page.
That's it…
Summary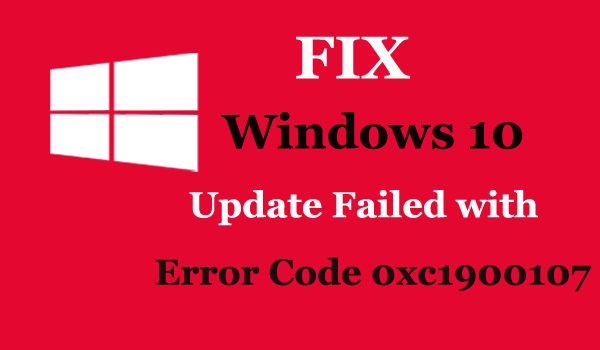 Article Name
Fix Windows 10 Update Failed with Error Code 0xc1900107
Description
Facing error code 0xc1900107 in Windows 10 Anniversary Update or Creators Update then here follow the solutions to fix the Windows update error…
Author
Publisher Name
Publisher Logo
FIX: Windows 10 Update Failed with Error Code 0xc1900107